I have three brand new (tags still on!) ribbed tank tops waiting for my time and some sassification inspiration. They are boring and bland, just a plain heather gray, black and navy. I want to just give em a little style and interest oomph...just a notch above humdrum.

We are still setting records of temperature lows and rainfall here in the Pacific NW, but I need some sort of (looking forward to) sunny weather project. So hopefully that means I can complete a few of these by the time sunny weather arrives.

These cascading ruffle embellishments are everywhere. I'm liking the tone-on-tone look:



(Charlotte Russe)

Yes, I realize this one isn't a tank top, it's a tankini swimsuit top. Cute, huh? I'm loving the idea of an off-center knotted sash that helps cinch the smallest part of the ribcage to produce the hourglass effect:





(J. Crew)



Simple rows of casual eyelet lace let this ordinary tank become more delicate and feminine. Perfect for layering:





(J. Crew)



Simple rows of elastic thread detail give this tank a flattering pseudo v-neck: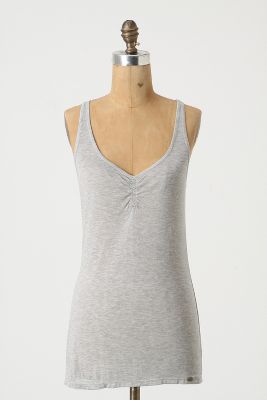 (Anthropologie)



Lastly, my fave! Just add a simple patterned bow tie to ramp up the style rating of your fave summer tank top:





(Modcloth)



Now, I just need to find a way to entertain my 2 and 4 yr old for hours on end while I play with my sewing stuff. Hmmmm, any ideas?

Hope it's sunny wherever you are!

Amanda

Yuppers, VintageDutchGirl IS on Facebook!