Our master bathroom needed some sprucing up. Some snazzyness. Some SASS:




See? BLAH.

Also, I was feeling some cabin fever and needed a quick paint pick-me-up project to distract me from snot wiping duty. So I loaded the snot-makers into the car and headed to our local thrift store.

$11 later, and I had me a painting pick-me-up project and some decorative sass for our master bathroom.

Aren't they LOVELY?




I deconstructed them, tossed the mirrors, duck, glass and landscape photo and painted them TEAL.

Yep, the very same teal that I painted my bedroom but have yet to show you. Mostly because I keep forgetting to...and maybe a bit because the color doesn't come out true and that BUGS me. Someday I'll get around to posting a decent-ish pic of it.

ANYWHO.

If you remember, that bedroom painting occurrence was a good two months ago. Didja know that if you cover your painting tray with a plastic bag and set it aside in the garage you can forget about it and delay cleaning it? Yup, true story.

So I rediscovered the 2 month old teal blue paint sitting there all sad and unloved so I just HAD to use it to makeover those sad frames.

Paint paint paint and wait to dry. Haul them upstairs to master bath, let them acclimate to their surroundings for a good three days before hubby says, "uh, hon, are you going to do something with these frames or are they just here to decorate the floor?" and then finally get around to hanging them on the wall.

Here ya go, sassy teal blue frames to give my sad master bathroom some interest:




MUCH BETTER. I smile every time I walk in there.




And really, my walls are NOT the color of a one month old's poo, they are a light yellow-beige. Hmm, maybe I should get a new camera? OR, I could photograph my walls during the daytime with natural light.

I decided that the frames needed more interest and dimension than plain, right outta the can, teal paint so I mixed in some black paint to darken the rest of the teal paint.

I dabbed it onto a rag and smeared it on the edges and detail and am loving the results:




The just-right amount of dimension and aging I was hoping for:




Not something I want on my face, but on frames? Yes please.

And yes, if you have a great memory, I have done this decorative technique before. What can I say, I know what I like and I like what I know.

So go out and grab a bunch of frames, paint em teal and throw em on the wall. Methinks you'll like it too...

A

I'm linking up to DIY parties today! Click over and check out all the projects!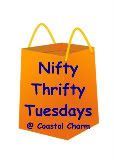 ***Didja know you can find me HERE on Facebook? True story. Become a fan (or like) and see the latest Vintage Dutch Girl posts in your news feed. Oh, and it'll make my day :) **