The mornings are starting to be crisp and we're pulling out our scarves and hoodies from the back of the closet.

Don'tcha just love fall?

I particularly love the scents and tastes of fall.

Sipping on a Pumpkin Spice Latte,

munching a (few) Gingerbread cookies,

smelling my Harvest Yankee Candle,

brewing up a batch of apple cider,

and that crisp morning smell promising frosty mornings arriving soon.

Are you in a fall mood yet?

NO?

OK, for all of you still mourning the loss of Summer, here is my never-fail fall mood inducer: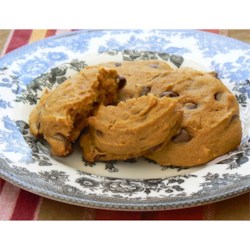 Pumpkin Chocolate Chip Cookies

Ingredients
1 cup canned pumpkin
1 cup white sugar
1/2 cup vegetable oil
1 egg
2 cups all-purpose flour
2 teaspoons baking powder
2 teaspoons ground cinnamon
1/2 teaspoon salt
1 teaspoon baking soda
1 teaspoon milk
1 tablespoon vanilla extract
3 cups semisweet chocolate chips
Directions
Combine pumpkin, sugar, vegetable oil, and egg. In a separate bowl, stir together flour, baking powder, ground cinnamon, and salt. Dissolve the baking soda with the milk and stir in. Add flour mixture to pumpkin mixture and mix well.

Add vanilla and chocolate chips and lightly stir until combined.

Drop by spoonful on greased cookie sheet and bake at 350 degrees for approximately 10 minutes or until lightly brown.

Eat liberally with extra large iced glass of milk.
There, that should help you get your AUTUMN on...
A
Click HERE

to Follow Vintage Dutch Girl on Facebook and get new post links in your feed!!